Valioso esfuerzo se realiza en Australia, en la huella de lo que viene ocurriendo en Europa,  para construir un instrumento de accountability que de cuenta de la diversidad del sistema de instituciones de educación superior sin pretender imponerle un estrecho ranking que enfatice y sobrevalúe la función de investigación. Los constructores locales de rankings tienen aquí mucho que aprender.
Australia's New Accountability Tool
Inside Higher Ed, February 13, 2013 – 3:00am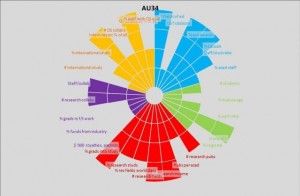 An Australian version of the European Union's university profiling tool, U-Map, could be in place within six months as part of a bid to reduce public and institutional obsession with research-biased rankings, while highlighting areas such as teaching.
But the tool will shine a spotlight on universities' vulnerabilities, too, including areas of poor research performance.
Unlike the EU's U-Map project, which is dependent on the willingness of universities to participate and supply information, the Australian version will be based on publicly available data and include all universities, whether they like it or not.
Advocates hope it will encourage universities to be proud of their strengths and break the hold that research intensive universities have on prestige. But some fear its profiling will justify further concentration of research funds in a small number of institutions, including the elite Group of Eight.
The LH Martin Institute and the Australian Council for Educational Research plan to release a first cut of their U-Map-inspired profiling tool in April.
They have used publicly available data to chart university activity under five color-coded categories — teaching and learning, research, student profile, knowledge exchange, and international presence. They then apply measurements within each category, such as student-staff ratios, student enrollments, research outputs and graduate employment rates.
It is then presented in so-called sunburst charts, which dramatically reveal a university's activities, warts and all.
Leo Goedegebuure, director of LH Martin, said the results highlighted that, contrary to expectation, there was significant diversity among institutions.
"This exercise opened our eyes to the fact that there are significant differences, which isn't to say that there isn't sameness or a need for more diversity," Goedegebuure said after a seminar in Melbourne on the project.
He will release a policy briefing on the project in April, along with every university's finalized "sunburst chart".
Like U-Map in Europe, he hopes it will be used to benchmark the scope of activity and performance between universities with similar profiles, rather than be hostage to research-focused rankings imposed by outside agents.
Charles Sturt University's vice chancellor, Andrew Vann, said the exercise proved that different university missions needed to be better promoted and rewarded.
"We need to find ways to talk about other aspects of excellence in terms of the value and benefits of teaching and the contribution to community, so that everyone isn't chasing the same thing," Vann said. But research remained important because it "keeps the intellectual lights on and that is a good thing."
Mike Gallagher, executive director of the Group of Eight, Australia's most research-intensive institutions, backed the initiative as an antidote to a "crook" rankings system that demeaned the sector.
He called on the Tertiary Education Quality and Standards Agency to loosen up the university title so that it wasn't so dependent on research, freeing institutions to focus on other areas such as teaching.
Universities "should be free to build on their strengths rather than distract themselves by trying to do things in areas where they won't be able to perform," he said.
Inside Higher Ed